Street Food
Opportunity details
Type
Franchise

Cash Required

The cash required is the amount of cash you have available or that you can access without referring to a traditional loan (family loans, stock, retirement plans, etc).

10000 €

Total Investment

The total investment is the total expected spending amount to start their business. This includes the franchise fee and other spending fees such as real estate, staffing, and supplies.

53 000 - 88 000
Native Country
Croatia

Available Locations

The available locations for franchising are the territories or regions the franchisor is looking to develop.

All of Eastern Europe
| | |
| --- | --- |
| Total Units (Worldwide) | 1 |
| Year Founded | 2019 |
Street Food
Street Food No.1 Delicious, fresh and quality!
Whether you need a short break, lunch with friends or dinner with colleagues after work - our location and offer is the ideal choice for any occasion. Pamper yourself with our gourmet dishes and a comprehensive selection of cold ones and hot drinks.
Our delicious specialties are prepared from always fresh ingredients. Our offer includes various delicious burgers, tortillas, hot sandwiches and other grilled dishes such as cevapcic, burgers or grilled chicken. There are also various side dishes such as always fresh fries and various salads they can also be portioned.
What are the advantages of our franchise?
- According to many researches, the success rate of franchise business compared to independent business entities is much higher. The success rate for independent users drops much faster than is the case with the franchisee, so after 10 years the franchisee has a success rate of a high 90% while with an independent business entity, the success rate is at a low 18%.
- Our franchise enables the franchisee to grow and develop their business quickly with low amounts of invested capital. Franchising also means that the franchisee receives security, defined costs, support and cooperation system, which is an excellent investment opportunity, with proven service and a quick return on investment. 
- The franchisee is enabled by the franchise to conquer the market with a product that has already been tested on the market as well as a proven business formula. The user receives professional help when doing business, while retaining his independence. This ensures fully measurable results of that business before investment, as well as mentoring by an experienced entrepreneur for the duration of the contract.
- The franchisee has the right to operate under the Street Food No.1 brand and the reputation behind it. A brand that is already known and present in the public's mind. It is much easier to attract customers. It takes a lot less proving in the market because you know what is behind the brand. Everything you need to go through, we have already gone through. We will be happy to share advice on what to pay attention to and how to respond to certain challenges.
- The franchise form of our business is the purchase of an already established business on a "turnkey" basis. At the end of the process of opening a franchise, you will have a completely finished facility with appropriate equipment, with everything necessary to start business. Along with detailed instructions for all the processes you will encounter (from opening the facility, preparing food, to closing and cleaning), you will also receive our recipe book, which will detail every procedure related to the preparation of each dish. We will be ready to answer all your questions and doubts with detailed instructions and provide you with constant support in your work.
- Our franchise concept offers staff training that enables you to get into the business relatively quickly. All franchisors who sign a franchise agreement must successfully complete a 14-day franchise training. Training and transfer of knowledge takes place in the period after the purchase of the franchise and before the official opening of the facility. The franchisor is obliged to successfully complete the training program regardless of whether he will have a restaurant manager.
- Because of the education and professional support we provide you in business, and because of the standardized processes and offers, the risk of business failure is much lower than in cases when you start a new business story yourself.

During the contract period, the franchisee receives support, education/training of staff, help with choosing a location, help with choosing contractors for equipment and visuals, a work manual and a detailed book
recipes.
We know what you need to pay attention to and what challenges await you - and we have a ready answer to them.
Benefits of Street Food No.1 Franchise
Lack of knowledge and experience is possible compensate with training 
Business under successful and recognized brand and reputation
Smaller initial capital for starting a business

Business support 

The franchisee is independent
Minimum risk - maximum reliability
Access to knowledge and information (know-how) and strategies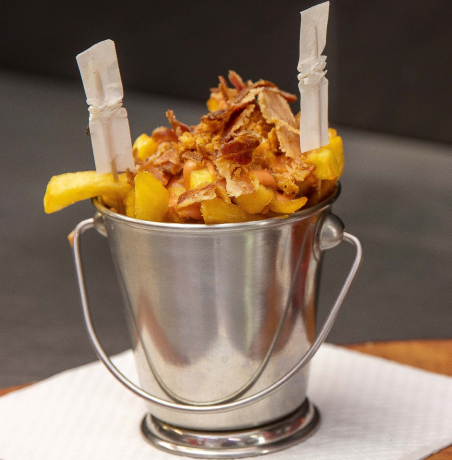 What do you get with the Street Food No.1 franchise?
Rights to brand Street Food No.1

Location verification

Management manual and recipe book

The book of standards brand and visual
communications

The book of standards arrangements
Staff training and management

Logistics support

Connecting logistics for the procurement of goods

Marketing support

Support during business
What are the terms of the Street Food No.1 franchise?
In order to ensure the satisfaction of our customers and enable them to feel comfortable the space and location of the Street Food No.1 brand should meet certain conditions and follow the design standards.
- Space with a minimum size of 45-100 m2 (ideally 65 m²)
- Retail space in a street building, detached building
- It is recommended that the space has a direct entrance from the street
- It is recommended that in front of the building or in the immediate vicinity, there is the possibility of
parking (minimum 5 spaces).
- A minimum of 15 kW of electricity, single-phase current, is required; the possibility of natural gas is
recommended.
- Area with high visibility, in the immediate vicinity of a larger settlement and a busy road or business district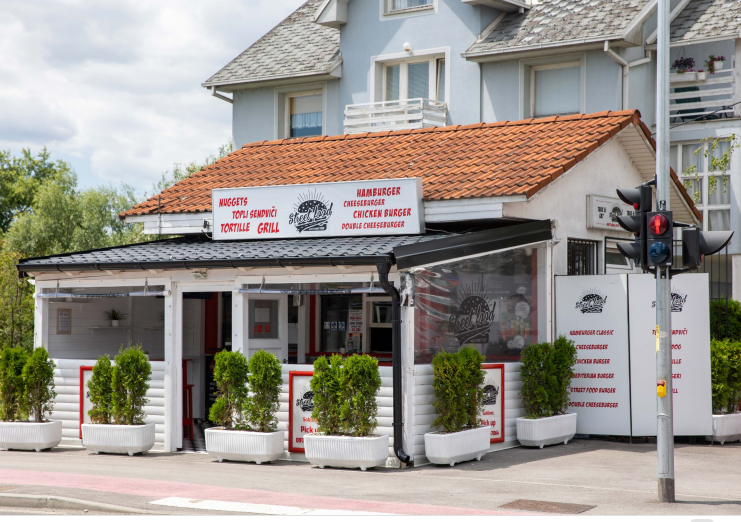 Locations that are part of larger settlements, ideally right next to a busy road - right at the entrance/exit from the settlement. Business districts with office buildings, offices and the like. Smaller towns and places that lack a standardized street food offering.
It is desirable that there are supermarkets, retail shops, companies or offices near the location.
Your space should be in an area that gravitates to 20,000+ people per day, in neighborhoods with high population.