CityPal
Opportunity details
Type
Franchise

Cash Required

The cash required is the amount of cash you have available or that you can access without referring to a traditional loan (family loans, stock, retirement plans, etc).

3500 €

Total Investment

The total investment is the total expected spending amount to start their business. This includes the franchise fee and other spending fees such as real estate, staffing, and supplies.

4000
Native Country
Croatia

Available Locations

The available locations for franchising are the territories or regions the franchisor is looking to develop.

All of Europe
| | |
| --- | --- |
| Total Units (Worldwide) | 3 |
| Year Founded | 2016 |
CityPal
(To read the text in Croatian, scroll down.) Your local tourist guidance to additional side money or starting off your own business!
Fantastic opportunity for local people who are familiar and in love with the city they're living in with some experience in advertising.
Are you very passionate, communicative and outgoing? Do you know each and every corner of your city and are you more than happy to share and recommend places with the best service to tourists and visitors? Besides that, do you already have some experience in advertising, either digital or print media?
If you found yourself in any of this description. Hello! This could be the perfect job for you.
CityPal is the perfect platform where local people help present the best of their city to tourists through CityPal printed maps, website and mobile application.
CityPal is also providing information such as where to eat, have a nice cup of tea or a coffee, which restaurants should they visit, where the best nightclubs and bars are, which events to attend and also offer other services which may come in handy on the way (car repair, dentist, hairdressing, etc.).
Today's guests are looking for authenticity and more people seem to be less interested in the professional recommendations of tourist workers.
People tend to listen to local people who already live in that city and know by lived experience where the best places are. This is where you step into the scene because you are the local who has the knowledge and experience of your city and you will be more than happy to share your authentic experience with them.
FRANCHISEE SUPPORT:
education and sale assistance

education in business leading

legal aid and contracts/materials

design services and creation of a city/region map

translation assistance if required

updates on 

www.citypal.me

 and mobile application
The investment will be already covered in the first season. 
Expected investment return is already from the first printed map of your city/region!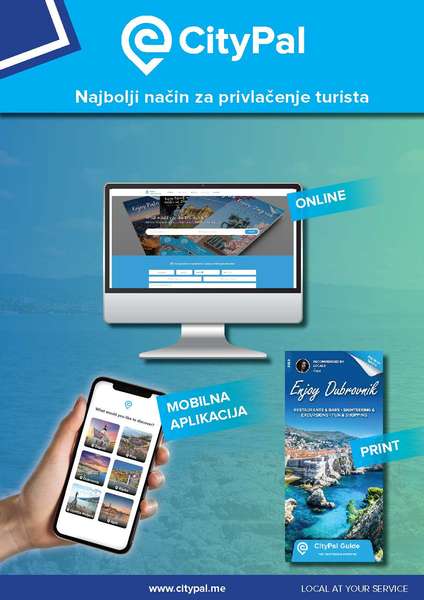 BASIC SYSTEM REQUIREMENTS:
Conditions are that the license for the city/region you are interested in has not been sold, and those who have experience in selling ads or are business travelers in the horeca sector and they already know  multiple restaurant and bar owners.
REQUIREMENTS FOR CANDIDATES:
strong motivation to start your own business

previous experience in advertising

love for your city and region where you live

strong customer service skills

a professional and personable manner

initial capital required
Tekst na Hrvatskom jeziku:
Fantasticna prilika za lokalno stanovništvo zaljubljeno u svoj grad s iskustvom u prodaji oglasa.
Vaš grad i regija u kojoj živite su vam "pod kožom" i znate njihovo srce i dušu.
Znate što je to na svakom uglu i volite posjetiteljima i turistima preporuciti najbolja mjesta i usluge u gradu. Osim toga, imate iskustvo u prodaji oglasnog prostora u digitalnim kanalima i/ili tiskanim medijima te ste dinamicna i komunikativna osobnost.  
Jesi li to ti? Drago mi je što smo se upoznali, jer imamo nešto skrojeno baš za vaš tip. 
CityPal je platforma pomocu koje lokalni stanovnici turistima predstavljaju najbolje od njihovog grada putem CityPal tiskanih mapa gradova, web stranice i mobilne aplikacije.
CityPal nudi informacije tipa gdje dobro jesti, gdje popiti dobru kavu, koje restorane treba svakako obici, gdje su nocni i drugi barovi, koje dogadaje posjetiti, kakva je ponuda usluga koje mogu zatrebati na putu (automehanicarske, stomatološke, frizerske i tome slicno).
Naime, današnji gost traži autenticnost i manje ga zanimaju profesionalne preporuke turistickih djelatnika.
Mnogo mu je draže cuti savjet nekoga "iz stvarnog života", nekoga s kojim se može poistovjetiti, tko živi u tom gradu i najbolje zna gdje treba ici da bi se destinacija doživjela na pravi nacin.
Tu vi stupate na scenu, jer taj entuzijasticni lokalac koji daje prave savjete gostima vašega grada željnim autenticnih doživljaja ste upravo – vi!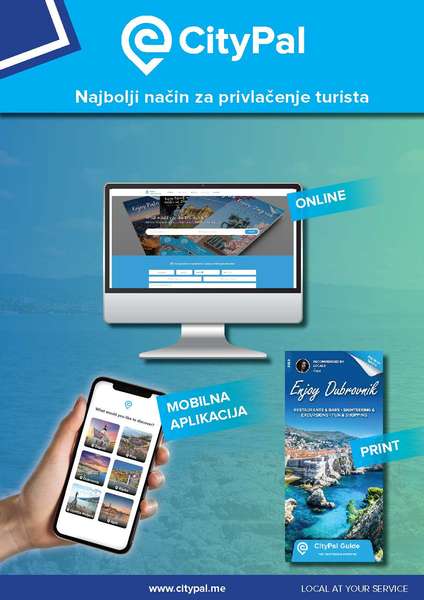 * Potreban mali pocetni kapital
    * Brzi povratak uloženih sredstava
    * Teritorijalna ekskluzivnost za franšiznu jedinicu
Nudimo vam:
    * Edukaciju i pomoc u prodaji
    * Edukaciju u vodenju poslovanja
    * Pravnu pomoc i materijale/ugovore
    * Dizajnerske usluge i izradu dizajna mape grada/regije
    * Lektoriranje tekstova na engleskom
    * Objave na www.citypal.me i mobilnoj aplikaciji
PROCIJENJENA UKUPNA VRIJEDNOST INVESTICIJE
Investicija se vraca vec u prvoj sezoni.

    * Ulazna investicija: 3.500 eura
    * Ukupna investicija: 4.000 eura
    * Vrijeme potrebno od potpisa ugovora do pocetka korištenja
franšize: mjesec dana
    * Naknada za franšiznu licencu: 10%
    * Ocekivani povrat investicije: vec od prve tiskane mape vašeg
grada/regije
    * Ocekivani prihodi od prodaje oglasa po pojedinoj mapi vašeg
grada/regije: 19.900 eura
    * Mogucnost izdavanja više mapa godišnje
OSNOVNI ZAHTJEVI SUSTAVA
Uvjet je da je nije prodana licenca za grad/regiju koji vas zanima, a prednost imaju oni koji imaju iskustva u prodaji oglasa ili su trgovacki putnici u HORECA sektoru pa znaju puno vlasnika restorana i kafica.
Zahtjevi za kandidate:
    * Jaka motivacija za pokretanjem vlastitog posla
    * Iskustvo u prodaji oglasa
    * Ljubav prema regiji u kojoj živite
    * Spremnost na predan rad
    * Dobri odnosi s klijentima
    * Potreban inicijalni kapital