CityDock
Opportunity details
Type
Franchise

Cash Required

The cash required is the amount of cash you have available or that you can access without referring to a traditional loan (family loans, stock, retirement plans, etc).

50000 €

Total Investment

The total investment is the total expected spending amount to start their business. This includes the franchise fee and other spending fees such as real estate, staffing, and supplies.

Minimum $50.000
Native Country
Romania

Available Locations

The available locations for franchising are the territories or regions the franchisor is looking to develop.

All of Eastern Europe's big cities
| | |
| --- | --- |
| Total Units (Worldwide) | 4 |
| Year Founded | 2019 |
CityDock
What exactly is CityDock?
CityDock designs and produces docking stations and is the most reliable and complete solution for parking, securing and charging small electric vehicles as the likes of e-bikes and e-scooters.
We assist in establishing connections between public facilities, office buildings, commercial complexes, and residential neighborhoods with the constantly expanding population of micromobility users.
Our infrastructure not only provides multiple advantages to all of the parties involved, but it also helps the environment by encouraging environmentally friendly and non-polluting modes of transportation.
The advantages
The area that is necessary for the installation of CityDock is easily accessible. This is due to the fact that CityDock offers a multitude of benefits that are applicable to many kinds of buildings.
Everyone can profit from CityDock, as it produces circumstances in which both parties come out ahead, including (but not limited to) the following: 
For Municipalities:
Makes a significant contribution to the reduction of CO2 Emissions.
Reduces the amount of stress placed on the public transportation system.

IoT is used to share data with various traffic authorities.

Helps to lower the probability of infection.

Organizes E-scooters Traffic and Parking.

Allows major metropolitan areas to more easily align themselves with international environmental regulations. 
Regarding Corporate Headquarters:
Increased employee health and happiness and opens the door to new market-leading opportunities.

Contributes to the environmental, social, and economic sustainability 

of the building.

Greatly enhances the certification for environmental friendliness and 

effectiveness.

Increases employee productivity by reducing the amount of time they 

spend traveling and  navigating.

Helps in lowering the amount of carbon emissions produced by the 

company.
Increases CSR performance.
In the case of Residential Complexes:
Providing inhabitants with an additional mode of mobility and opens up new potential for selling  and renting property.

Addresses a new, growing market of prospective buyers – Millennials.

Contributes to the environmental, social, and economic sustainability 

of the building.

Boosts the ranking in the certification for environmental friendliness 

and efficiency.

Contributes to an increase in CSR performance.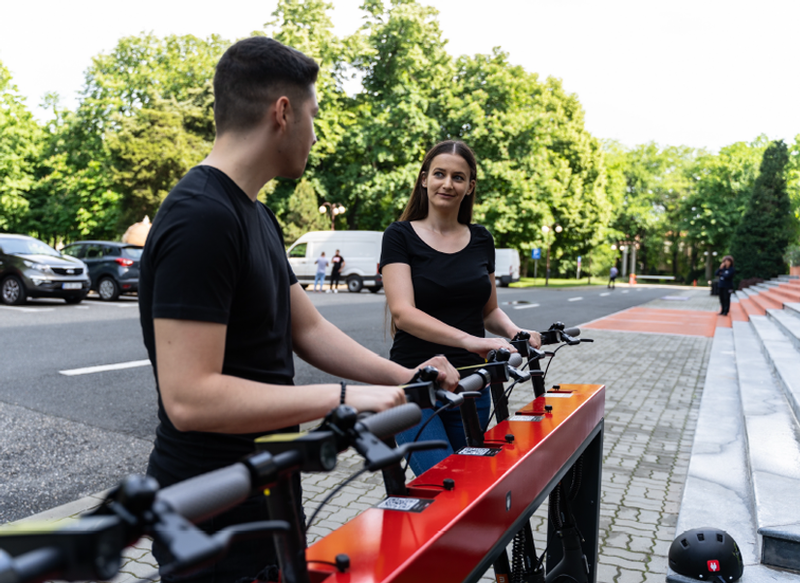 Regarding Hotels and Guesthouses:
Provides the most up-to-date recreational opportunity for hotel 

guests.

Contributes to an increased CSR performance.

Provides hotel guests with an option that does not involve the use of 

cars.

Boosts the ranking in the certification for environmental friendliness 

and efficiency.

Improves ratings provided by guests.

Contributes to the long-term environmental, social, and economic 

viability of the building.
Regarding Shopping Centers:
Enables access to a completely untapped market of more than 200 million 

escooter users globally.

Customers have the option of not bringing their cars with them.

Manages the flow of electric scooter traffic and parking spaces.

Compatible with any kind of e-vehicle, whether public or private.

Contributes to an increase in CSR performance.
CityDock is connected with its own custom-built app. The app is where you will collect the fees that are associated with charging and
securing. Users have the ability to reserve CityDocks and see their locations on the in app's map.
Together with a 55-inch outdoor LCD, the Income Streams CityDock T2 is capable of generating revenue via three primary routes, that is:
Users will be charged a fee per docking period, which can be paid by using the CityDock app, that can be downloaded from the Google Market and the Apple Store. 
Renting other high-tech devices that may be placed inside the dock, such as 5G beacons, in addition to a variety of assistive technologies (such as Step-Hear). The services that are offered for each dock may result in a different set of available options.
Lease of add-space on the LCD panel to display advertisements. The amount of income earned is heavily reliant on the location of the docking station as well as the number of people that frequent the area.
The Possibility of Owning a Franchise
Because it would be impractical for the CityDock team to oversee docks in every location in the globe, we decided to build a franchise program instead. You may establish your very own CityDock business with as little as five docking stations.
When you buy a franchise, you become a member of a group of other individuals who are also developing their companies at the same time as you. We are quite generous with the information, help, and insights that we have. We keep in regular contact, have a good time together, and support one another. The CityDock community is one of a kind, and participating in it will be a gift for you.
In the ever-expanding world of mobility, CityDock provides a service that is one of a kind and has no direct competitors. The Covid-19 situation pushed people to use electric scooters much more than they already did, therefore this is an opportunity that is relevant and in demand right now.