Edukido
Opportunity details
Type
Franchise

Cash Required

The cash required is the amount of cash you have available or that you can access without referring to a traditional loan (family loans, stock, retirement plans, etc).

1300 €

Total Investment

The total investment is the total expected spending amount to start their business. This includes the franchise fee and other spending fees such as real estate, staffing, and supplies.

Starting from 5 000 € to 28 900 €
Native Country
Poland

Available Locations

The available locations for franchising are the territories or regions the franchisor is looking to develop.

All of Eastern Europe
| | |
| --- | --- |
| Total Units (Worldwide) | 65 |
| Year Founded | 2016 |
Edukido
Edukido: Educational classes with bricks
Edukido is a franchise system offering educational classes for children aged 3- 10 years based on Lego® bricks.
We offer: 
Regular educational classes that allow to get to know the surrounding world of nature, technology, science and ... fun!
Workshops for schools and kindergartens (sample scenarios of the workshops: Medieval castle, The power of wind, Gravity, World Map, Gliders, Miss Spring, Christmas Workshop – Santa's Sledge etc.);
Our goals:
We want to break the artificial barrier between the humanities and the technical sciences.
We want children to practice their spatial imagination and problem-solving skills using a program that does not impose templates.
We want to shape the curiosity of the world and the ability of abstract thinking always embedded in practice.

We have almost 30 years of experience in education.
How does the regular courses look like?
Regular classes are designed for groups from 4 – 10 persons, one regular classes takes from 45-60 minutes. The classes are held every week at the same time with the same group.
The classes start with an incentive that focuses the children's attention to given subject. Then instructor tells a story or shows a short video about a certain subject.
Then, children ask some questions and look for answers through considerations and experiments.
We create perfect conditions for creative and logical thinking
What do you receive joining EDUKIDO network?
Business model that allows you to earn money from Monday to Sunday throughout the year - adapted for both small and large entrepreneurs.
A Franchisee earns money on:
- conducting regular classes in schools, kindergartens and in educational centre (if the Franchisee wants to have one),
- conducting workshops in schools and kindergartens, community centres, libraries, shopping centres, at company events etc.,
- organising Birthday parties with bricks,
- organising Day Camps during summer and winter holidays.
Fixed franchise fees – the license fee does not depend on turnover or the number of customers – you decide how much and for how long you want to work and by this how much you want to earn.
A training is conducted in Polish with translation into English.
A very detailed operating manual in English (with over 1000 of pages along with accompanying documents) – including operational standards in the field of promotion, sales, brand identity, maintaining customer relations, conducting classes, recruitment etc.
Constant access to Edukido database with over 300 created course scenarios and additional materials to conduct the classes (for regular classes, workshops, for birthdays and day camps) – constantly developed and expanded.
Prepared sets of blocks for all types and levels of classes.
Accessories necessary to conduct Edukido classes.
Access to Edukido e-shop with materials, accessories and gifts.
Marketing support: projects of marketing materials shared with you in English.
Continuous support of the business supervisor (contact by email, phone, online meetings).
Self-diagnosis tools – you can easily check the state of your business and areas for improvement.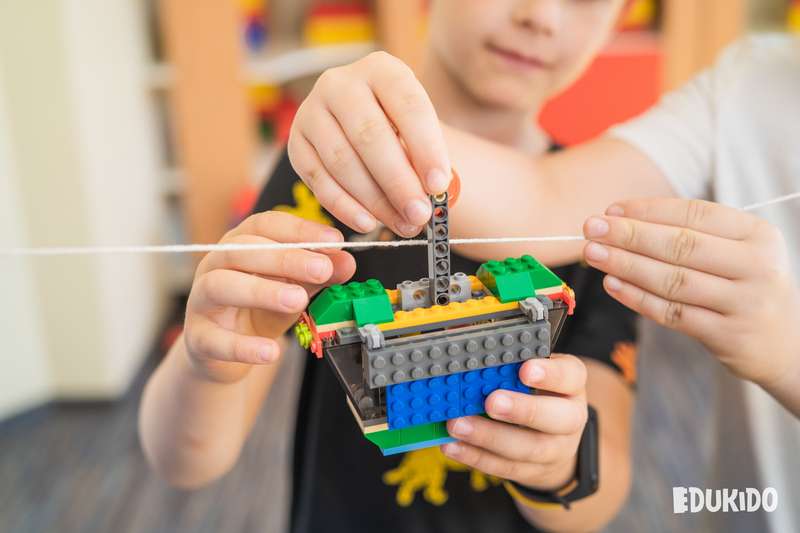 Expected Total Investment
The investment for an individual franchisee consists of 3 parts: 
Purchase of Lego starting package of bricks approx. 3000 €
Marketing materials and accessories approx. 700 €
The licence fee depends on the size of the exclusive area: starting from 1300 €
Monthly franchise fees: starting from from  40 €
The investment for a Master Franchisee:
There is also a possibility to become a Master Franchisee, which gives a right to operate throughout the country.

The Master Franchisee receives income from its own activities and from fees collected from sub-franchisees. Profit from sub-franchise branches for the Master Franchisee is 75% of the fees paid by individual sub-franchisees.
Investment costs starting from 3000 € depending on the country of operation
Who can become a Franchisee?
Perfect candidate for Edukido franchisee: 
Has business and management skills and is not afraid of selling,
Is communicative and hardworking,
Knows English,
Has the ability to transfer knowledge and easily establishes relationships with children,
Experience in the educational industry will be appreciated.